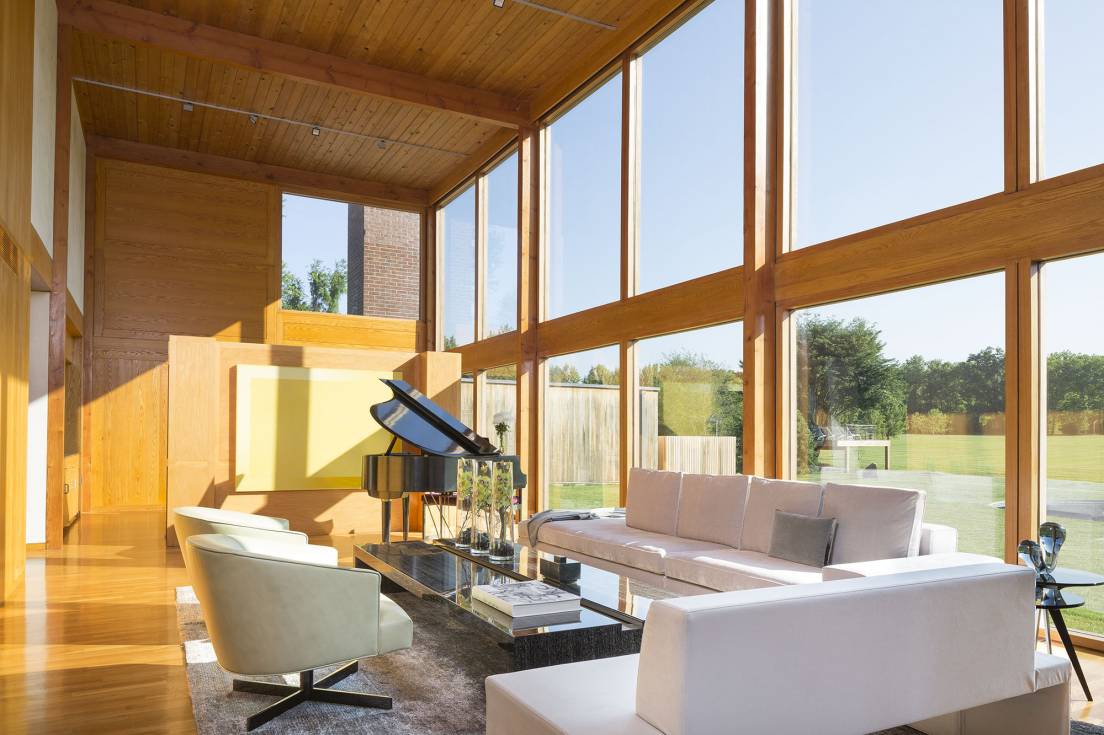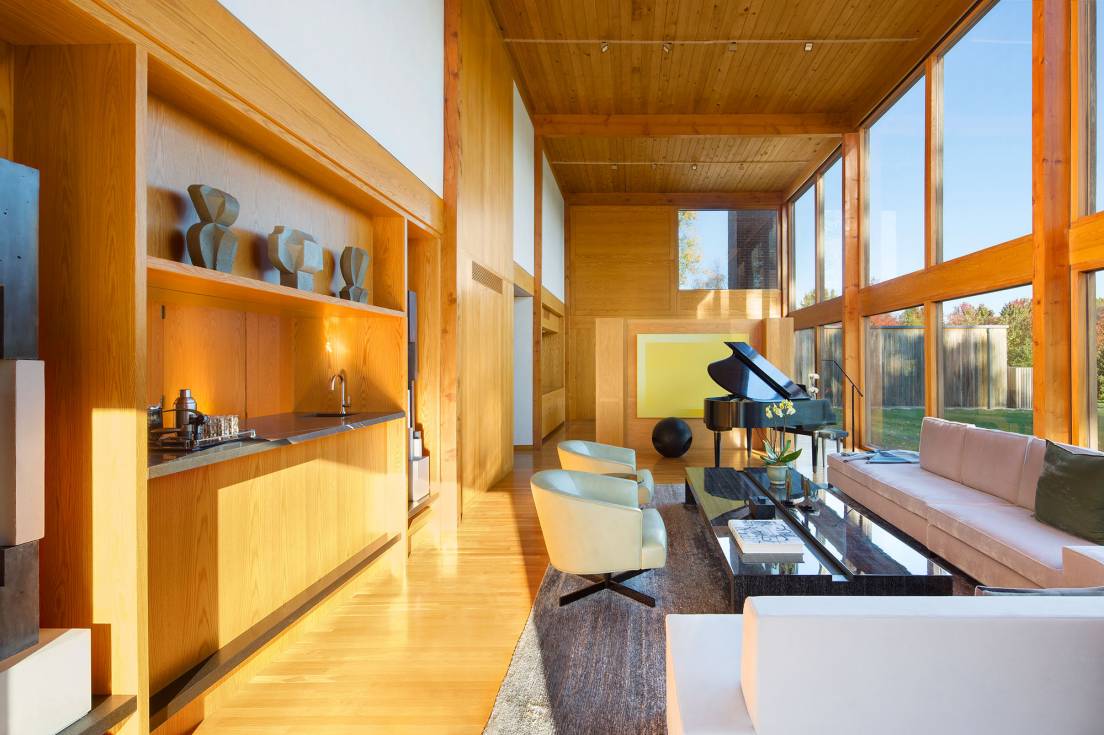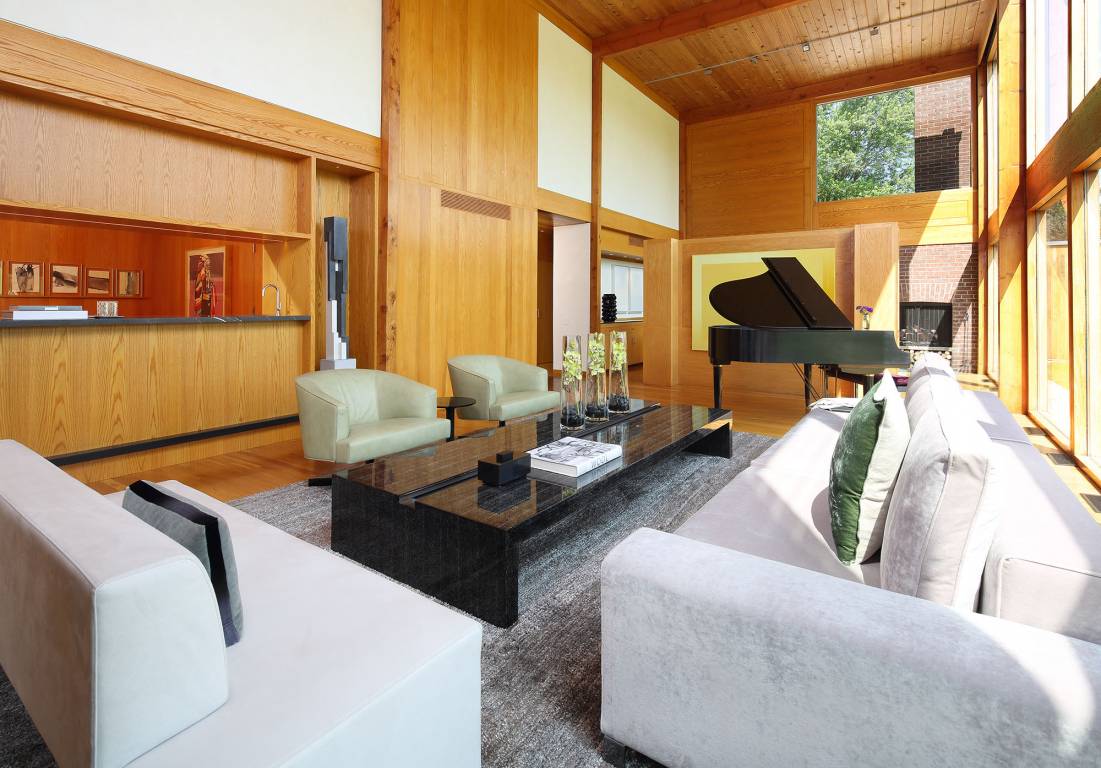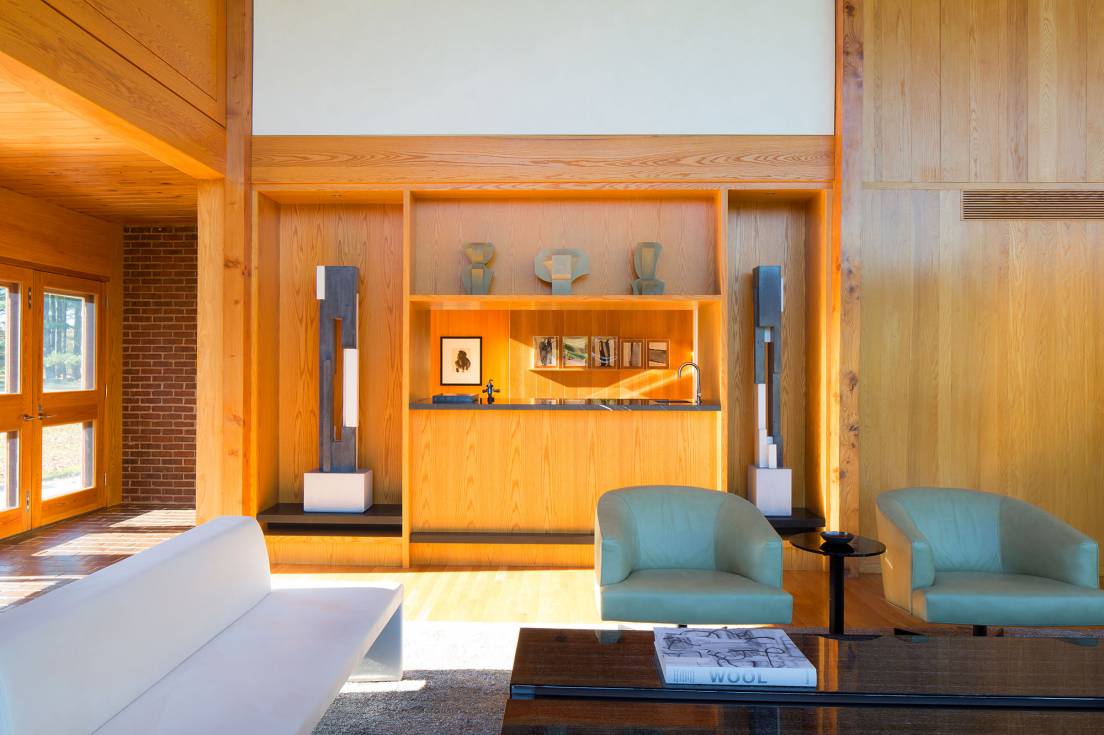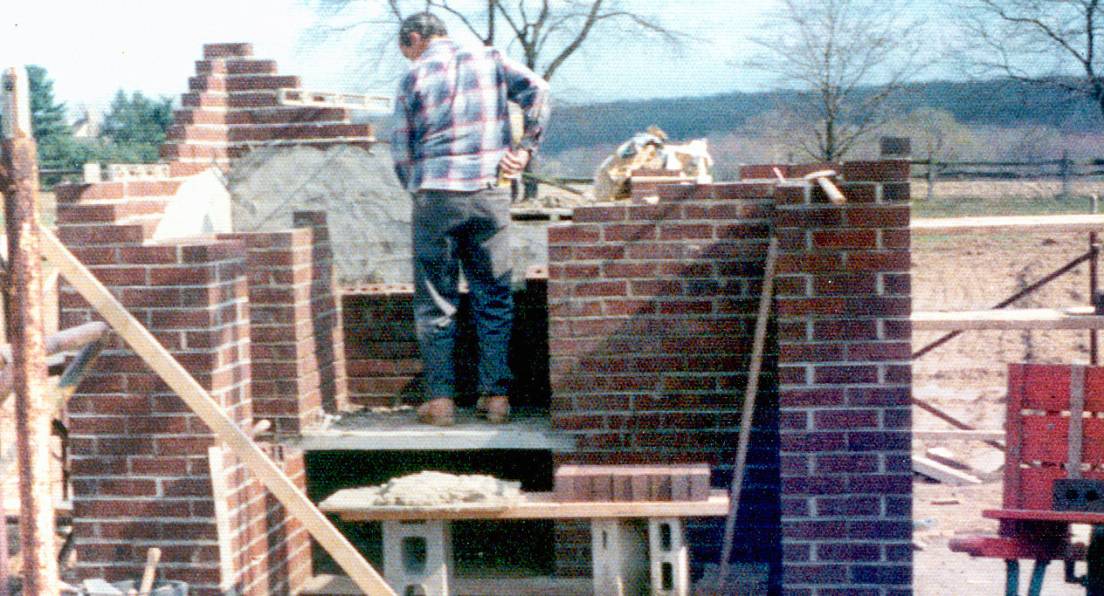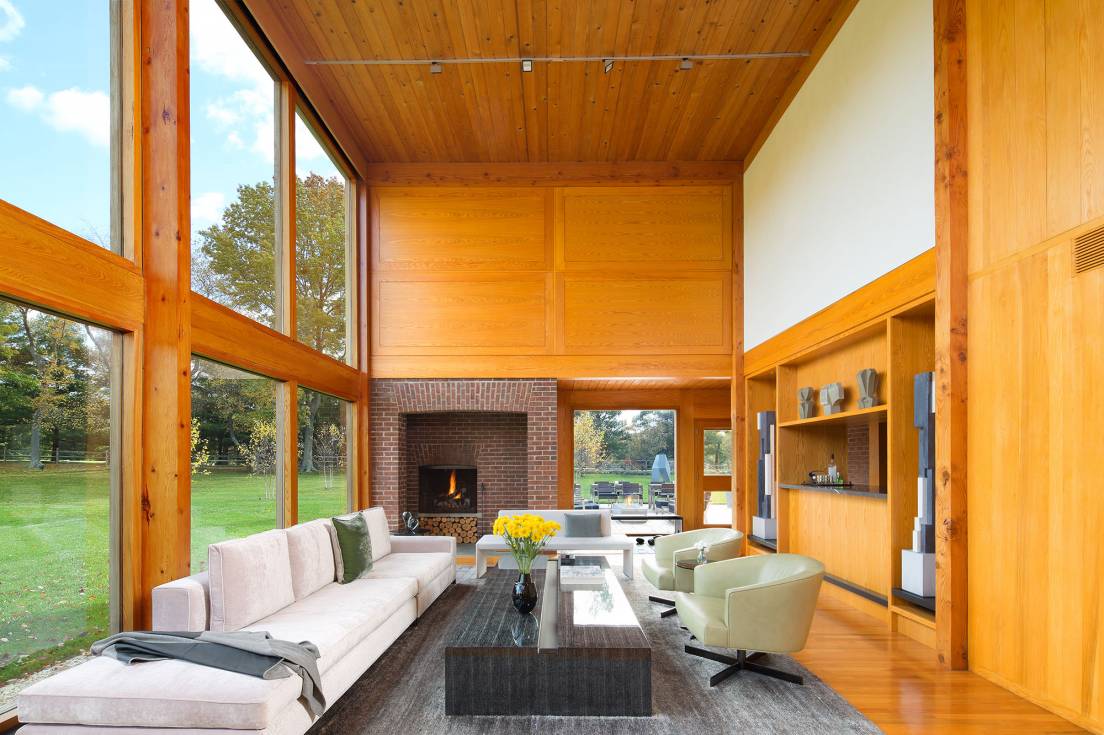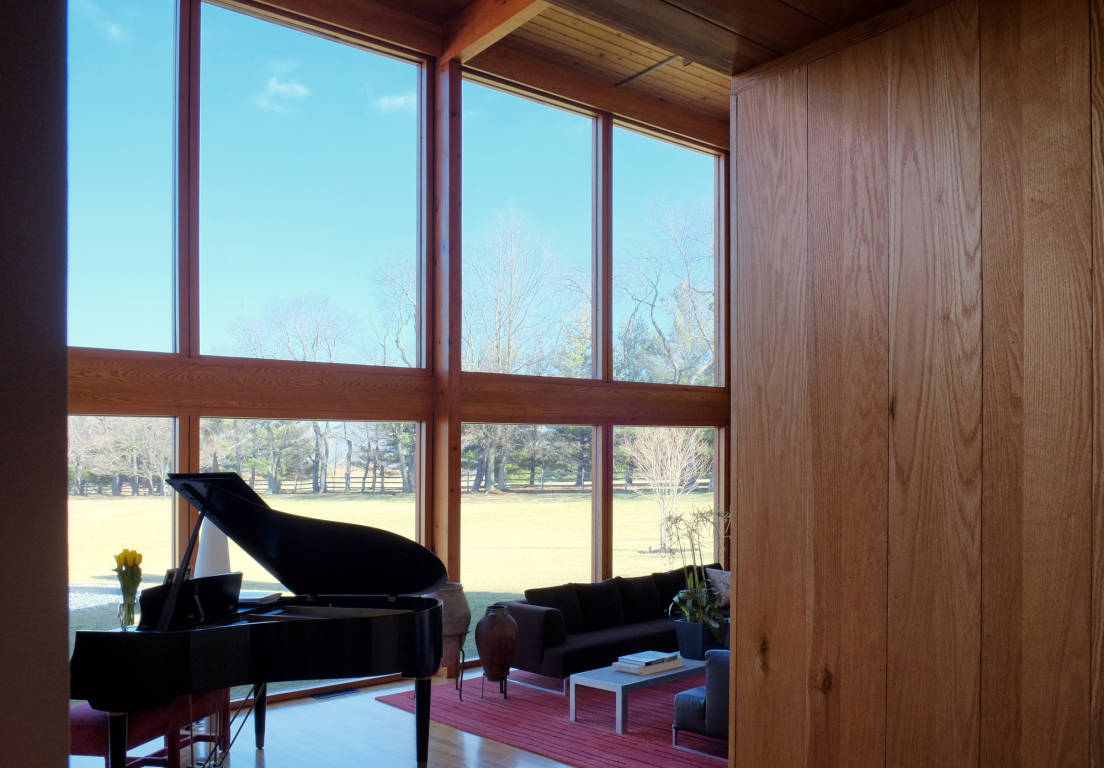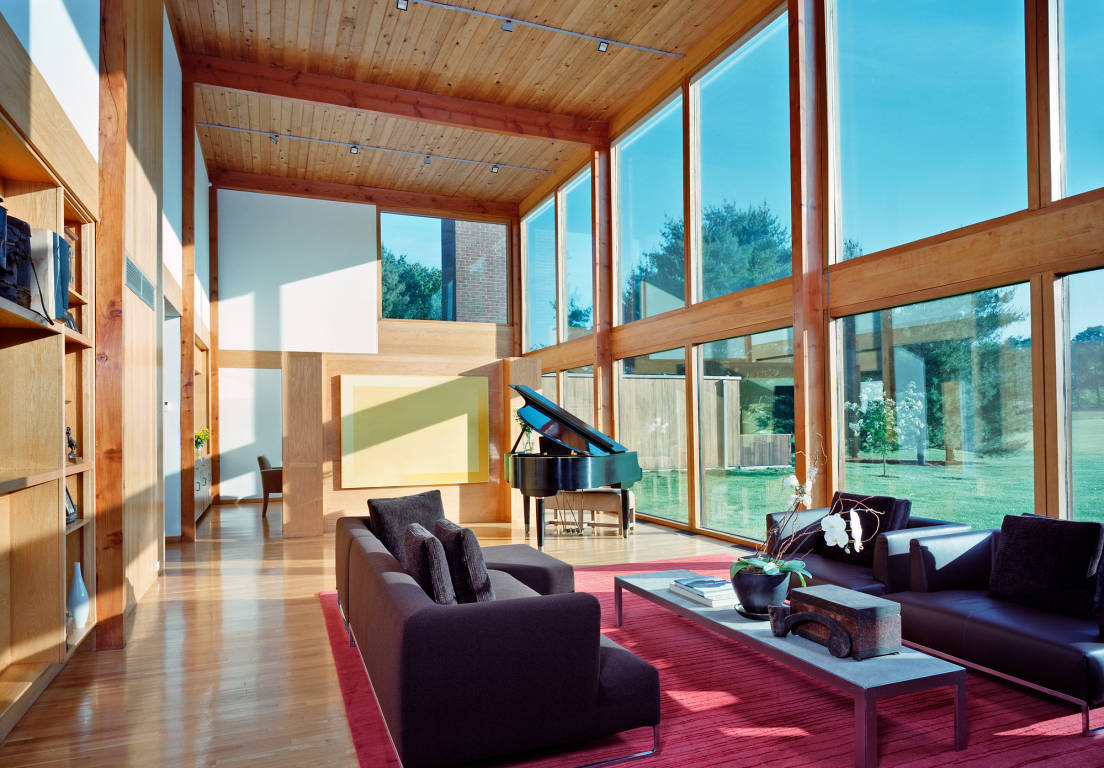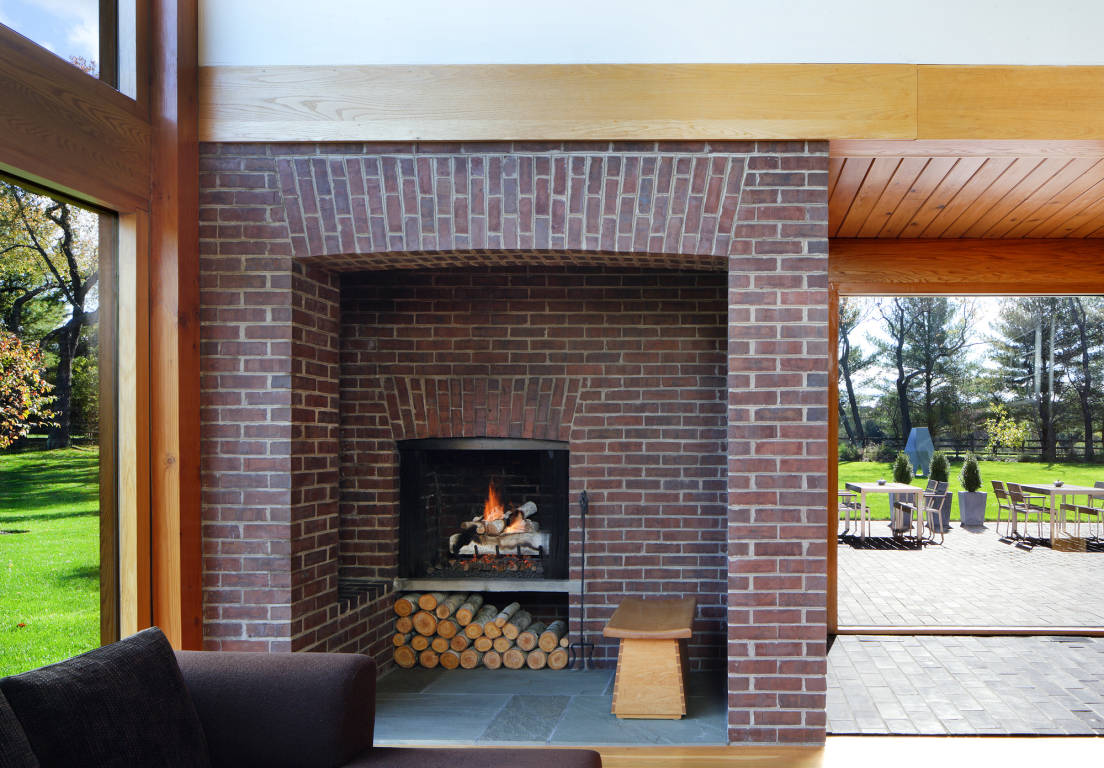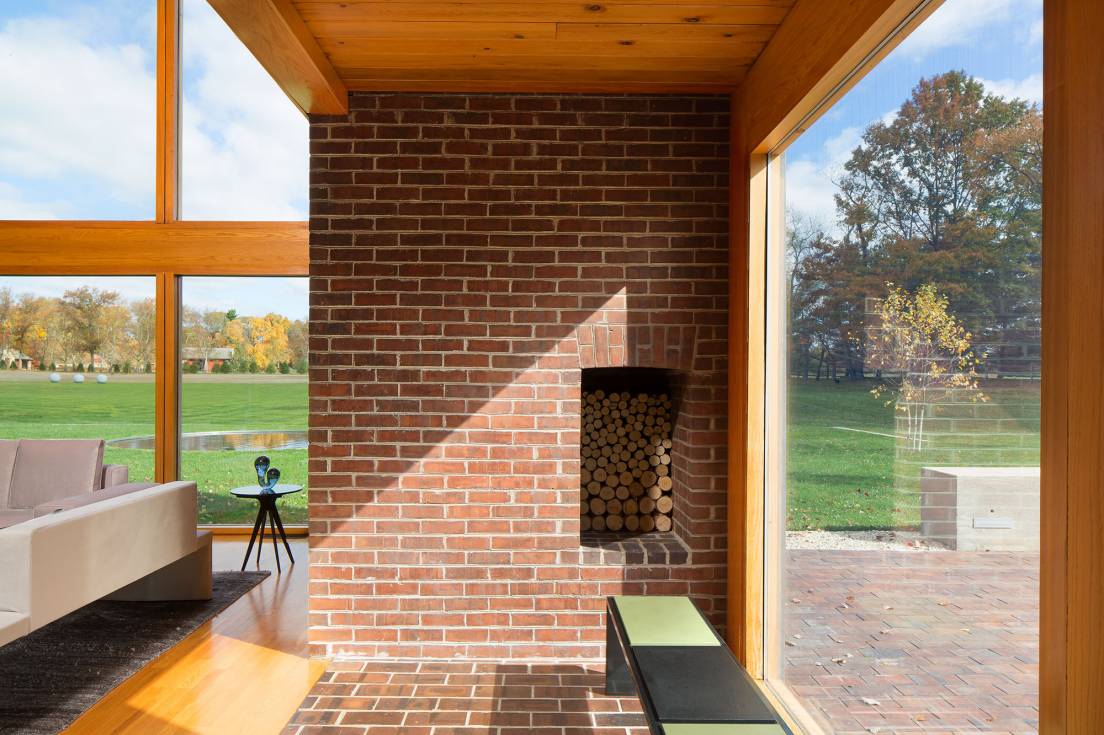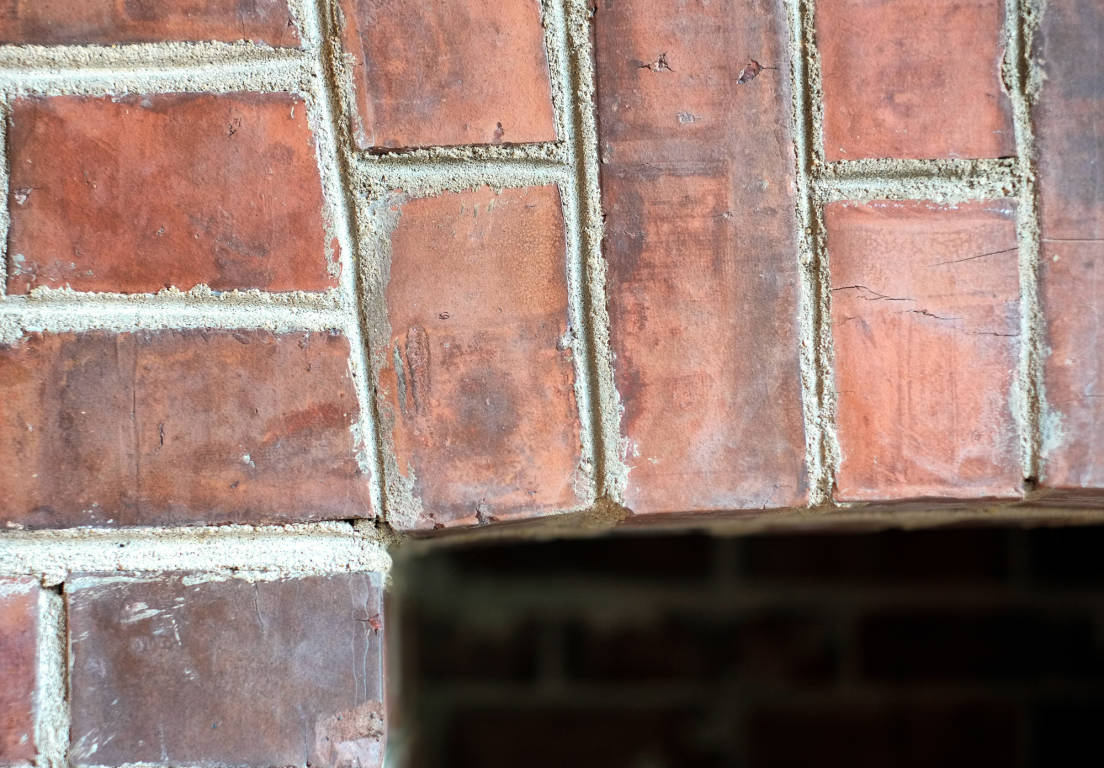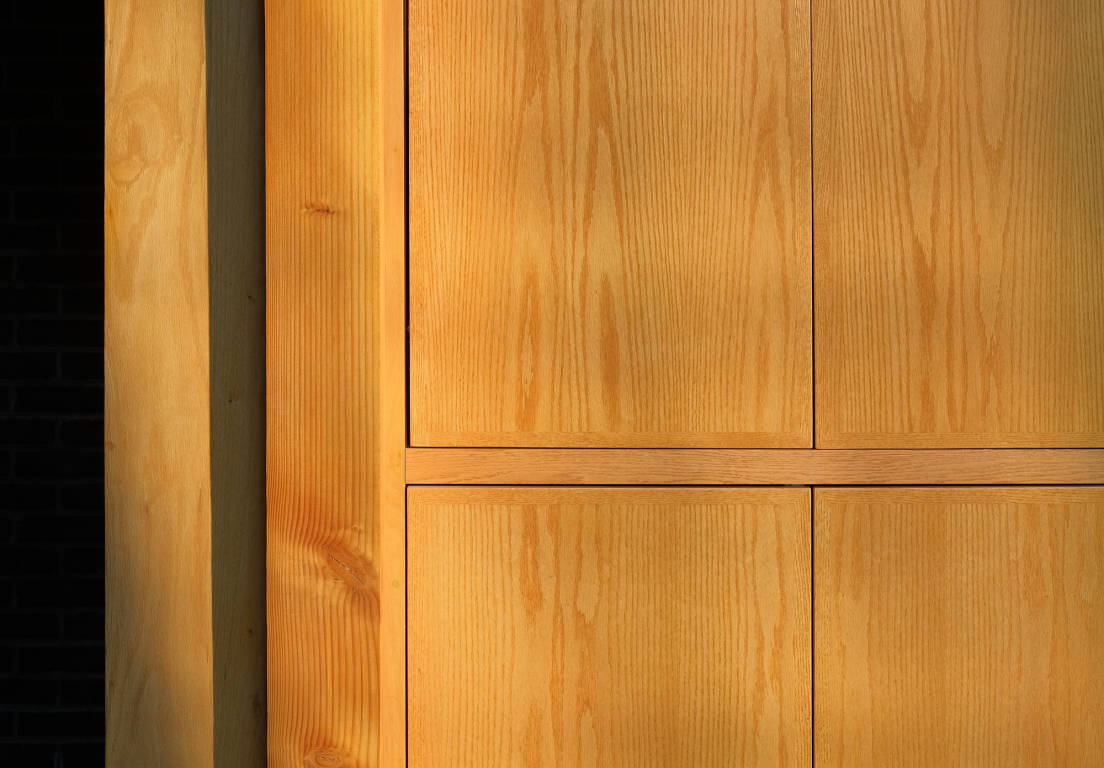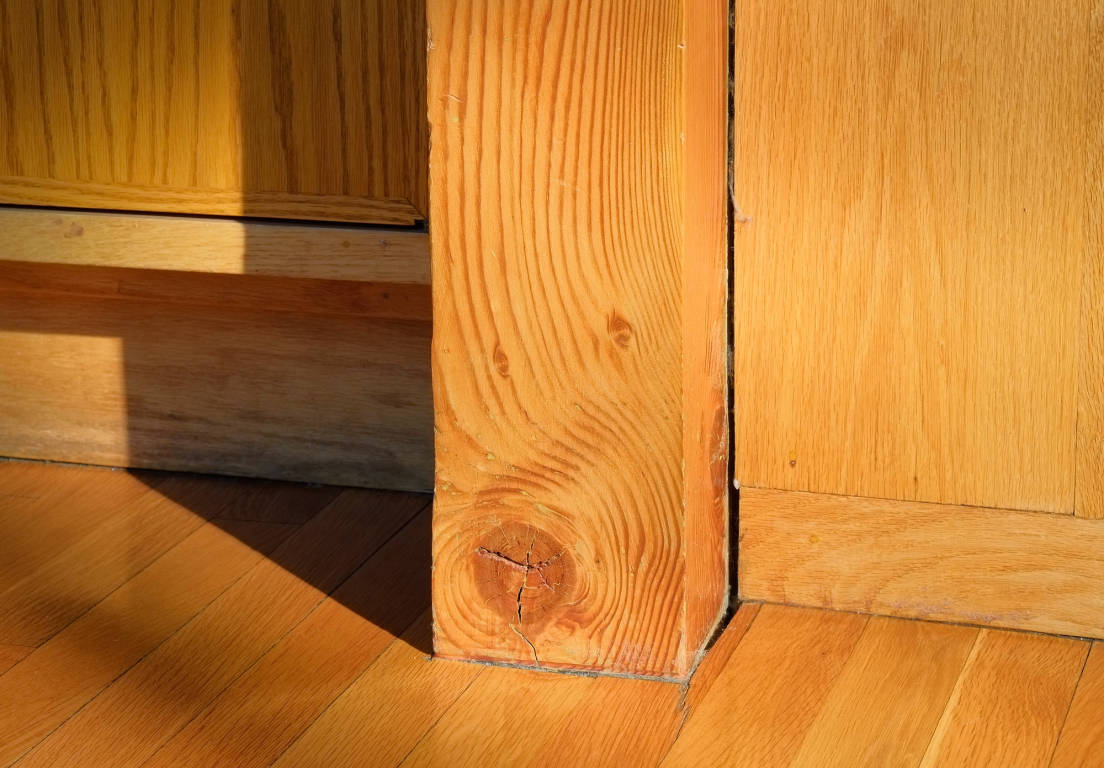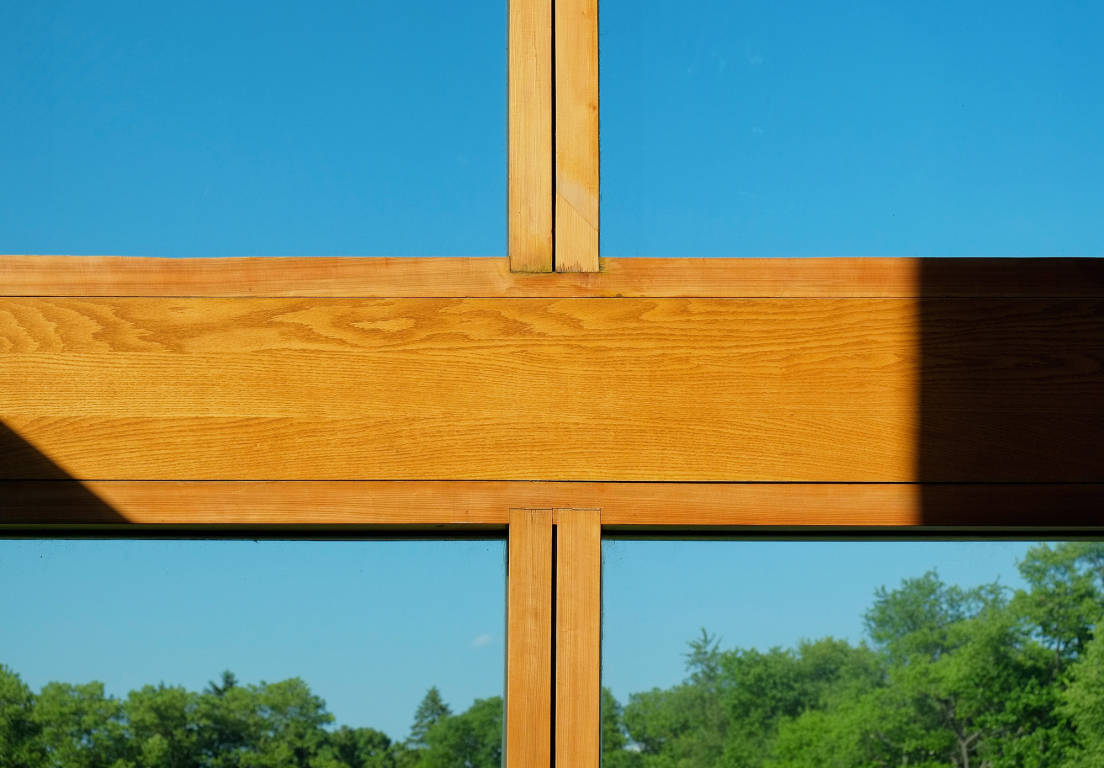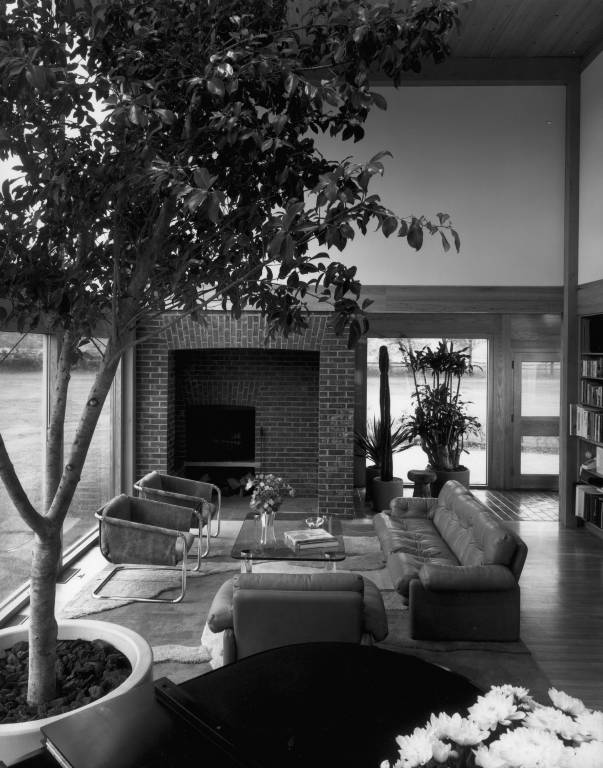 "What slice of the sun enters your room? You feel the privacy of it, you feel that sun belongs to you, coming through the window, playing along the sills and the jambs and the walls."
Kahn, House & Garden interview, 1972
A left turn from the entrance leads into the living and dining spaces. Instead of giving us the sense that we're traveling deeper into the house and further from outdoors, entering the double-height room brings us back to the land: floor to ceiling windows reveal the open field behind the house, fully visible for the first time. The window panes are thin, calling to mind the delicate sash windows of old Philadelphia architecture.
The northeast-facing windows are an example of how Kahn oriented each part of the house to reveal the landscape and the changing light in subtle ways.1 Shadows move across the pasture throughout the day. Light flows through the space from dawn until sunset, when the setting sun illuminates the dining room chimney (visible through the windows). 
The living room fireplace's chimney is hidden from view; instead, the eye is drawn to a brick inglenook with built-in bench. Kahn envisioned the inglenook as an intimate place to sit and have a conversation, a small-scale element that defines a house.2 Throughout the design process, the Korman plan was anchored by its chimneys, but the inglenook evolved: it was first a semi-circular, temple-like room of its own. 
Kahn told Toby Korman and interior designer Susan Binswanger that he chose "a very rich kind of brown red brick" for the fireplaces, which he found superior to the "red red kind."3 
Steven Korman recalled being impressed by Kahn's ability to imagine brick at different times of day and "see what light does to it."4
One final story for the brick pile: William Whitaker recalls that a retired brick salesman once dropped in to the Architectural Archives on his way to the University of Pennsylvania hospital and shared a memory about Kahn scouting for materials to use in the Richards Medical Research Laboratory. Apparently the salesman took Kahn to a brickyard in Maryland where nothing met his standards—until he saw a lone brick on top of a shed, holding down a metal roof. It had been rejected and set aside because of its imperfections: its surface was variegated (a brick with a high iron content will mottle when heated).Kahn loved the subtle and mysterious glow of this "defective" brick, which became the prototype for many more, known informally as the K Brick. 5
The inglenook has a grapevine joint, a technique also used in colonial Independence Hall in Philadelphia. A mason strikes the mortar freehand with a v-channel tool as he lays the bricks, creating an imperfect and slightly wavy line. The finished brickwork retains traces of the process and human hand which shaped it.6