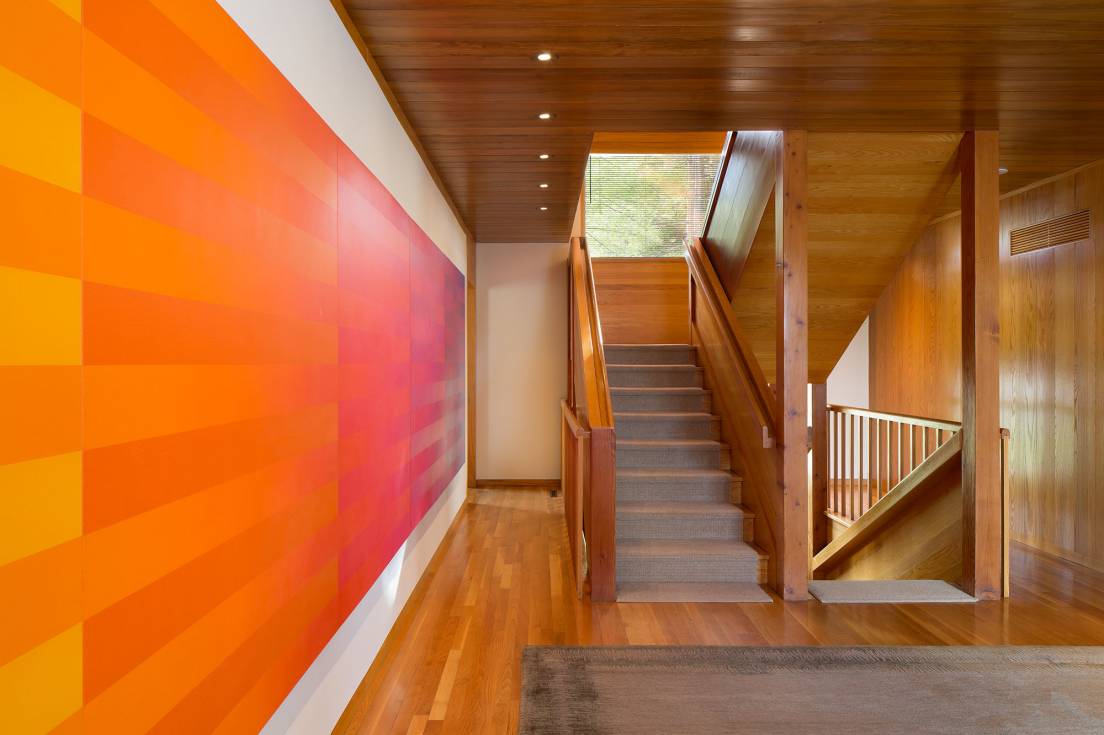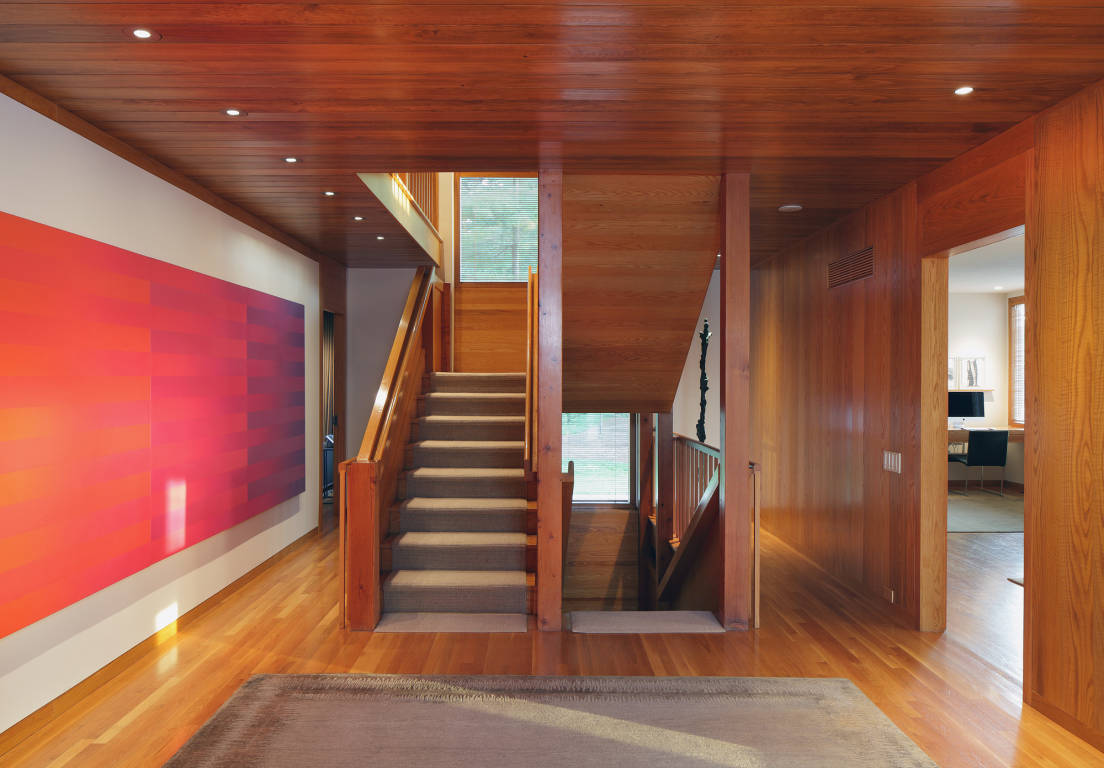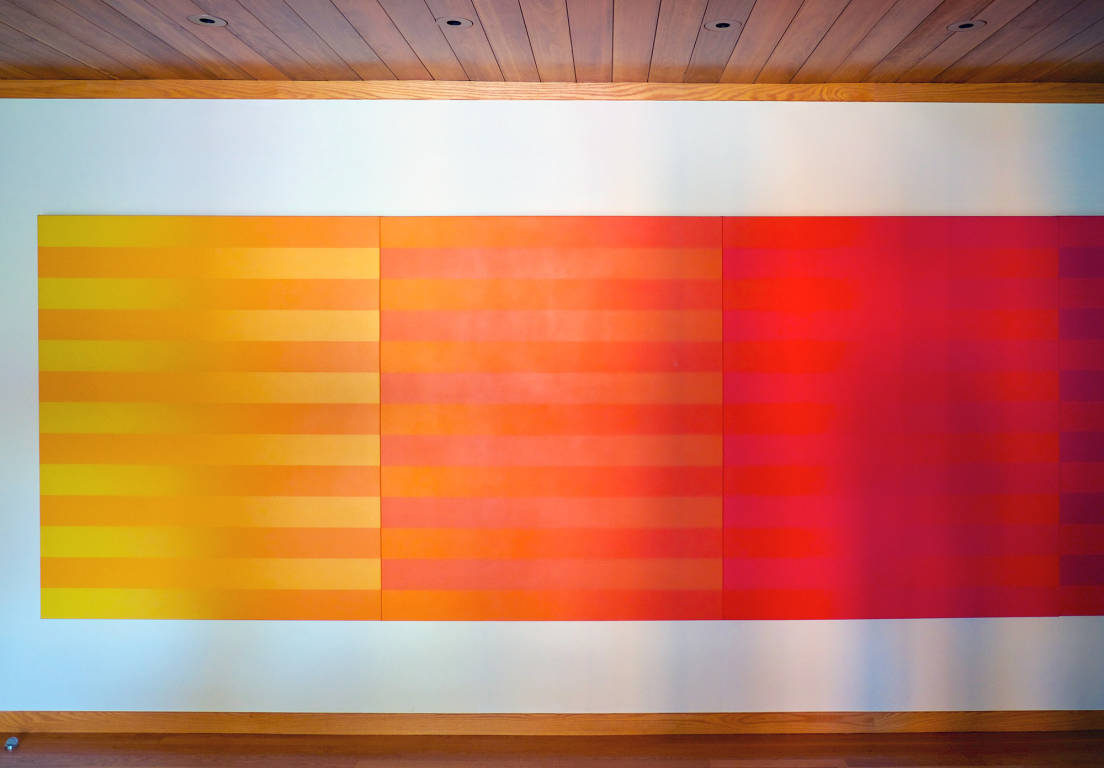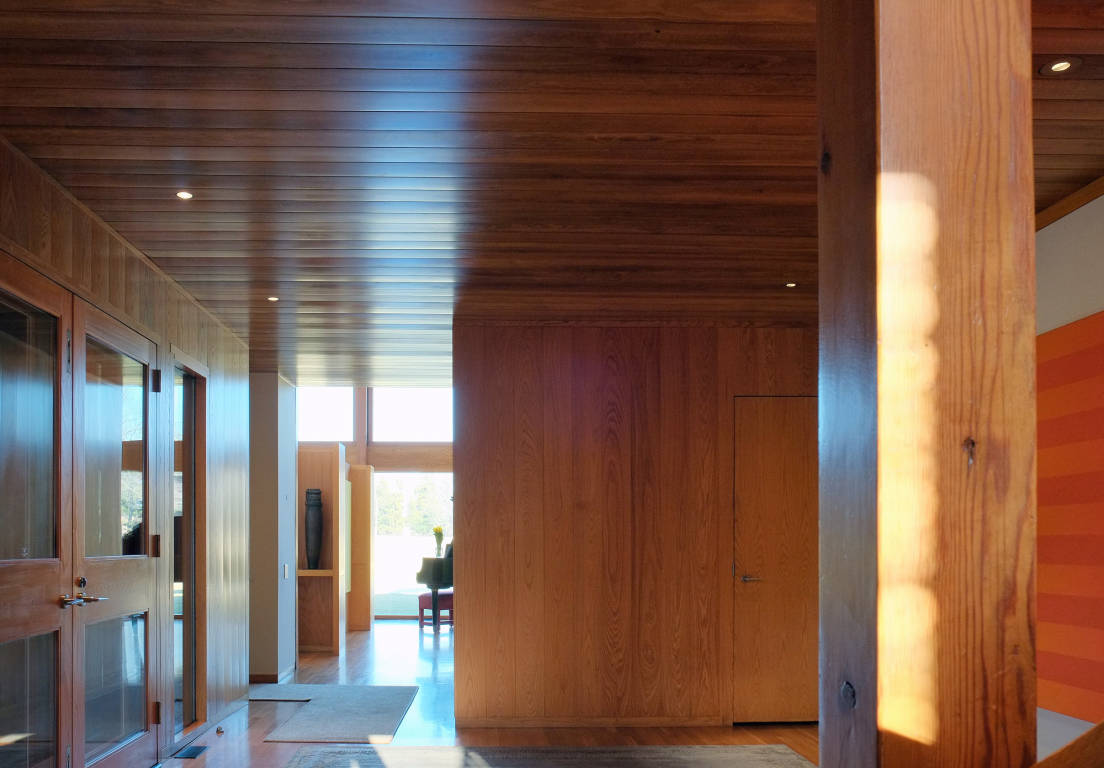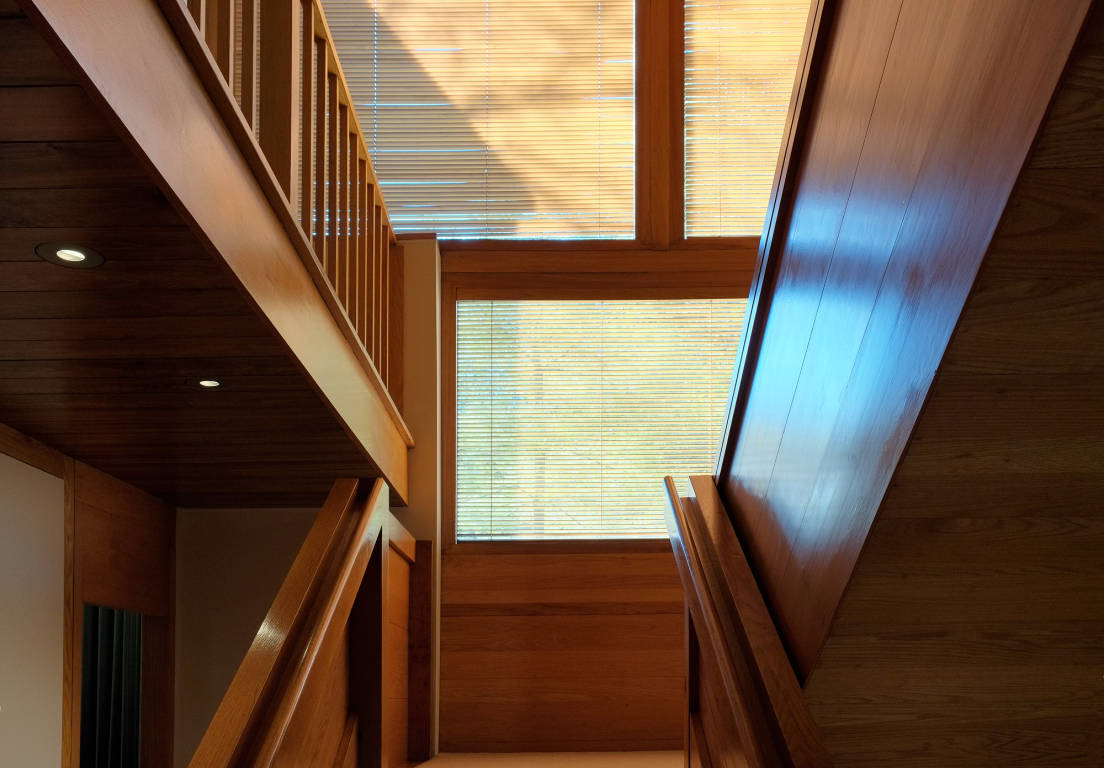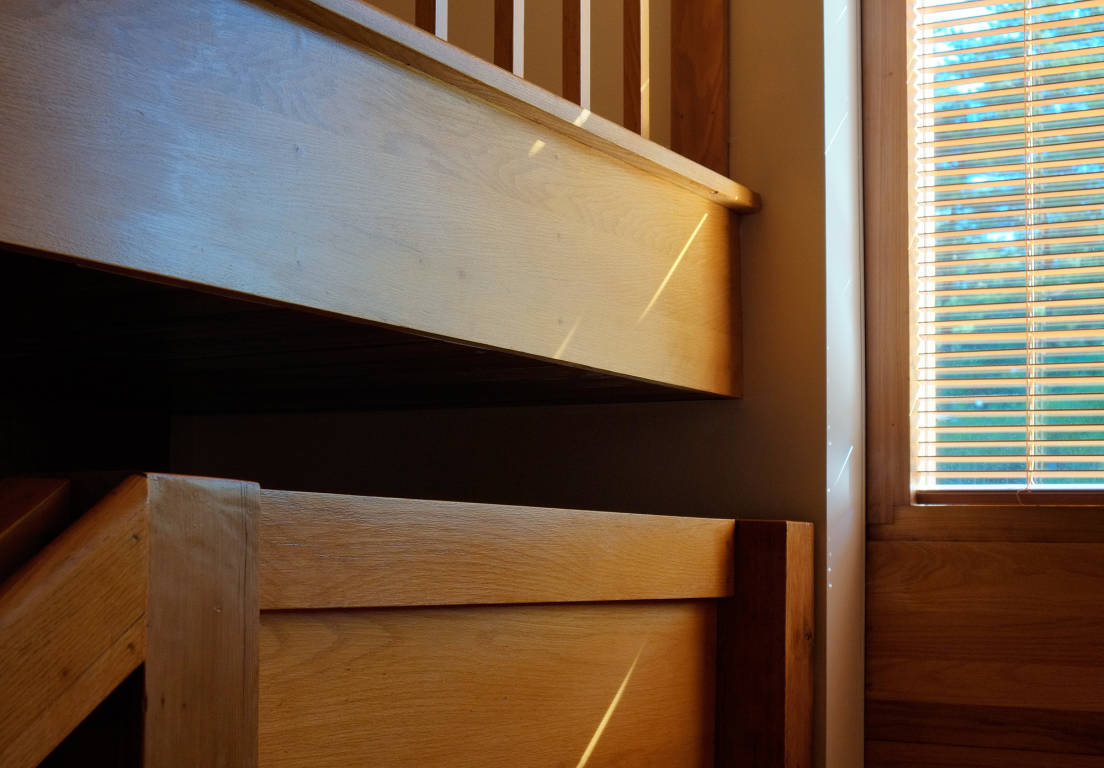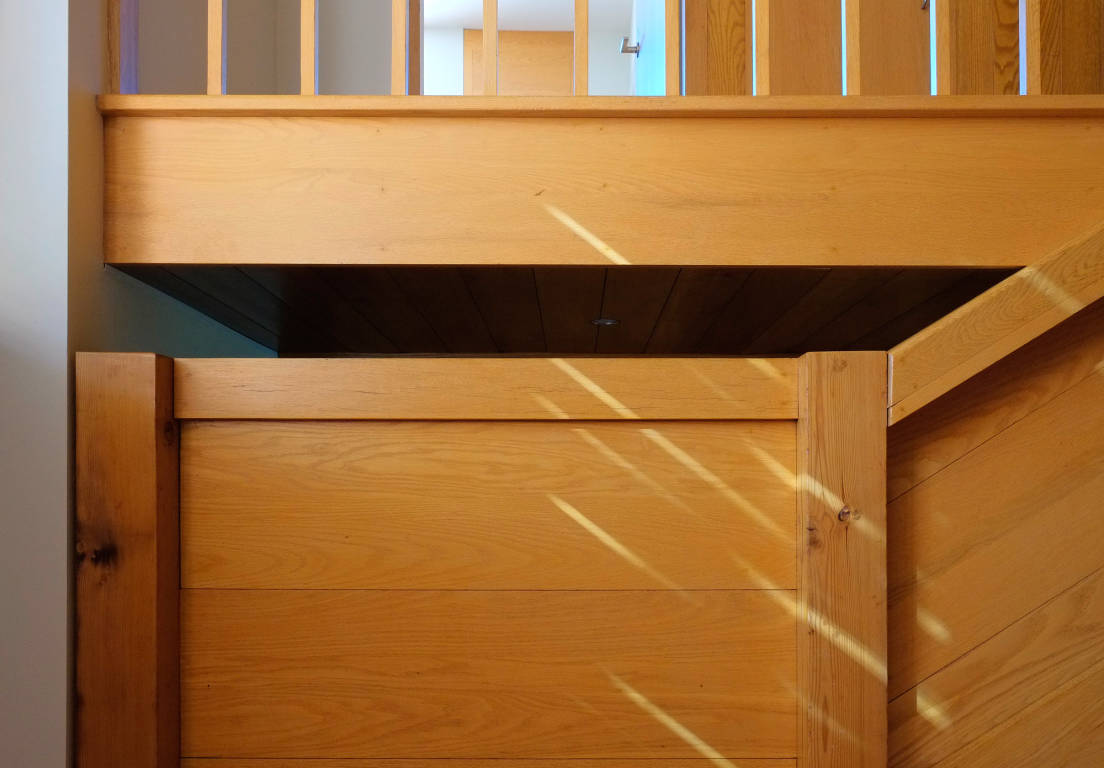 The entry hall's focal point is it staircase; beams of douglas fir extend from the basement to the second floor, elegantly defining the space.
In a 1974 interview, Steven Korman recalled that the staircase alone took three months to build.1 Contractor E. Arol Fesmire's portfolio included Kahn's Fisher House, as well as churches and sacred spaces. His body of work mirrors Kahn's belief that small details make powerful statements.2
Upstairs, the staircase is the center of a hallway where the bedrooms open out. Kahn's aim was to find a way of gathering people meaningfully, unifying private and communal areas while still creating smaller, autonomous sleeping units.3
An earlier sketch of this part of the house made the childrens' rooms radiate outwards at angles. Steven and Toby Korman became concerned that this would create "factions" between the older and younger boys. Kahn resolved this issue by creating a hybrid stair-hall, neither pure hallway nor staircase.
Notes:
^ Steven Korman and Richard Saul Wurman, ICA Series lecture, 12 June 1974, p. 7, Tape #62. Transcribed by the Architectural Archives of the University of Pennsylvania. Kahn was originally supposed to speak at the ICA series; his sudden death in March required Steven to step in. ↩
^ William Whitaker, private tour, November 2012. ↩
^ Kahn's interest in the "eternal plan" of colonial housing, documented in a 1972 interview, is perhaps relevant here. He noted that he was currently working on two houses with wood "inside and out," and stated that "today you can still use the Colonial house, the room separations make responsive places." His description of a "landing that is a room" and the importance of shielding the dining room from the living room for the sake of a hostess' "independence" seems to have some echoes in the Korman plan. Beverly Russell, "An Architect Speaks His Mind," House & Garden, October 1972, p. 125. ↩